Deep Wood Series Release - Ryeway to Heaven, V.S.O.D., and Boss Jacket
Warm up your December with the triple threat of Ryeway, Very Special Old Deth, and a Boss take on Straight Jacket.
Bourbon and rye barrels work together in harmony to breathe life into our Ryewine. This unforgettable ale is brewed with over 60% rye, yielding entirely unique malt- and barrel-derived complexities. Enjoy an ample body that suggests sweetness but still finishes smooth and dry. Enjoy life now, or store cold.
Untappd - 4.2
BeerAdvocate - 94
V.S.O.D. (Very Special Old Deth)
For those of discerning taste, this blend of specially selected Deth's Tar Imperial Oatmeal Stout barrels, each aged a full two years, is a showcase of barrel character. "Very Special Old Deth" demonstrates the flavors and aromatics which can only be achieved through extended barrel aging and obsessive TLC. Enjoy now with pinkies extended or store cold.
Untappd - 4.4
BeerAdvocate - 95
Aged in French oak WhistlePig The Boss Hog V, The Spirit of Mauve ex-Calvados Rye Whiskey barrels, this special edition of our award-winning BA English Barleywine was brewed to retain a little extra sweetness, allowing the additional malt sugars to compile layers of stupefying complexity over time. Enjoy now or store cold.
DEEP WOOD SERIES CAN SALES WILL TAKE PLACE SEPARATE FROM THE TAPROOM, NEXT DOOR IN OUR SHIPPING AND RECEIVING DEPARTMENT (3350 N. KEDZIE AVE).

TO-GO CANS:

Boss Jacket four-pack: $40 + tax (Limit 2)
V.S.O.D. four-pack: $35 + tax (Limit 4)
Ryeway to Heaven four-pack: $30 + tax (Limit 4)
ALL CREDIT CARD TERMINALS WILL BE USED FOR TO-GO SALES, TO SPEED ALONG THE LINES. BOTH CASH AND CREDIT CARDS ARE ACCEPTED FOR THE PURCHASE OF 4-PACKS.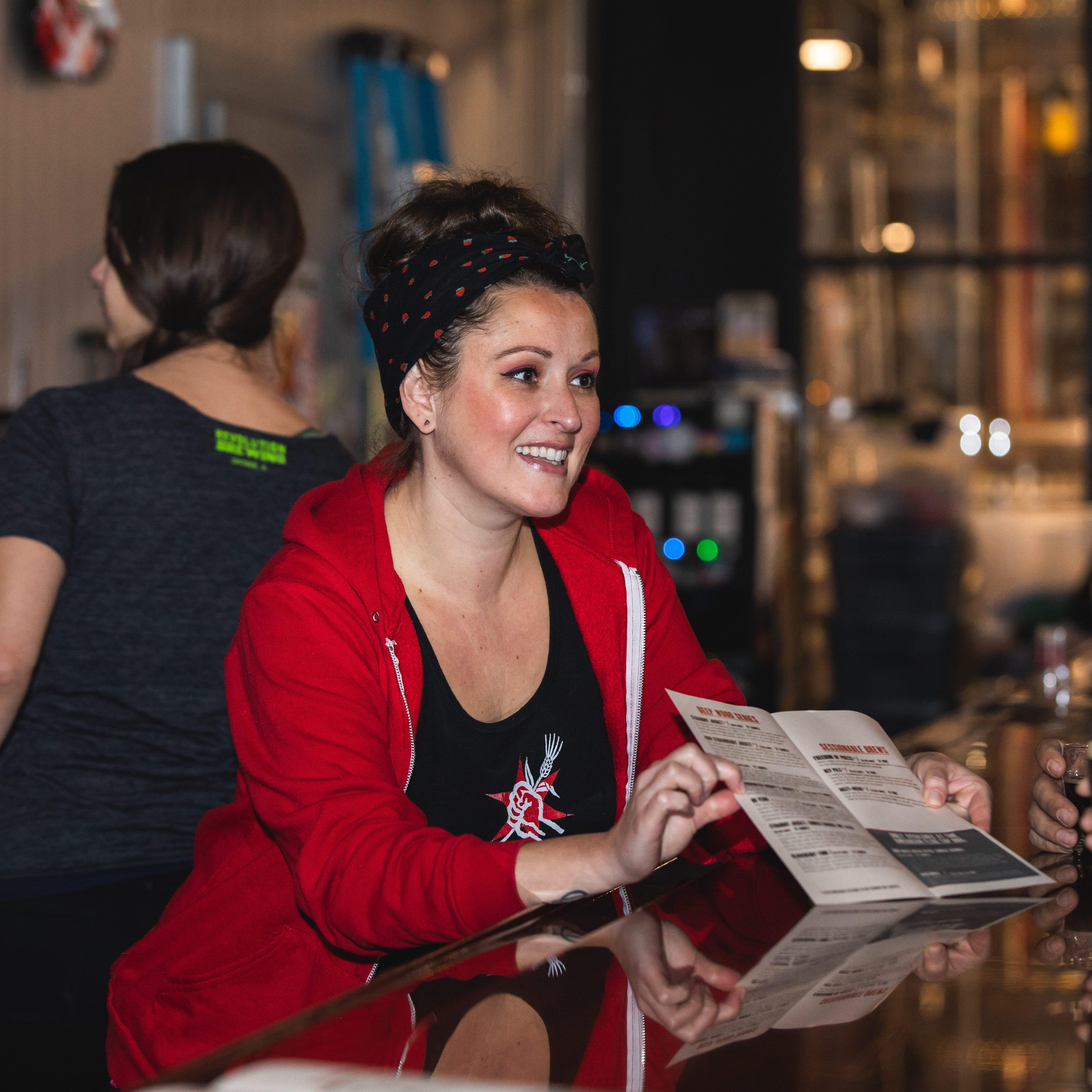 DRAFT POURS IN THE TAPROOM WILL BE CASH ONLY (ATMS WILL BE ONSITE) TO ENSURE THE FASTEST POSSIBLE SERVICE. DRAFT PRICING WILL BE AS FOLLOWS:
5 oz. barrel-aged beers, including variants: $7

16 oz. Pints of non-barrel-aged beers: $7
Café V.S.O.D. - Single Keg - 14.2%
Three pounds per barrel of freshly roasted Dark Matter Cocoa-infused San Jeronimo Miramar Catuai goes toe-to-toe with the fudgy, oaky flavors of our extended age BA Stout. A short, cold, whole bean extraction process provides a bright, clean, chocolatey coffee aroma not unlike the first whiff of a freshly opened bag, and V.S.O.D. does the rest.
Very Old Deth by Currants - 14.3%
After two years in a pair of Woodford Double Oak barrels, we may as well have called this one "Deth by Lumber". A year ago this beer was sweet, tart, and fruity. Today it feels far more nimble - the oak and fruit competing for your affection with every sip.
Sanctuary #6 - Double Barrel X.O.D. Rye - Single Barrel - 16.2%
After a series of extended maturations in Woodford Rye and Heaven Hill Bourbon barrels this Extra Old Deth's Tar is uncompromisingly spirited, unyieldingly oaky, and undeniably awesome. Four years of evaporation have concentrated its inky, fudgy malt structure into the perfect foundation for this, a most ludicrous barrel treatment.
2017 Ryeway to Heaven - 13%
Ah yes, 2017 Ryeway. It wasn't supposed to be quite that sweet, but the confluence of elevated residual sugar and hyper-expressive Woodford Double Oak barrels imbued this batch with complexities we were just coming to understand in 2017. Maple, pecan, caramel, and gobs of American oak turned this staff-favorite into a fan-favorite, and paved the way for among other things V.S.O.R.
2018 Double Barrel V.S.O.D. - 17.0%
This boozy time capsule from our library started as 2017 Deth's Tar, a dry, fruity, whiskey-laden vintage that we remember fondly (if a bit fuzzily). Some of that beer was split off for a second round of aging; half to Woodford Double Oak and half to WhistlePig 10 Year Rye barrels. A lean malt structure stays well clear of the brutish barrel and spirit character, lending a mere whisper of fudgy counterweight in this ode to whiskey lovers.
WHERE WILL THESE BEERS BE AVAILABLE?

Each of the Deep Wood Series beers will be released in cans at the Revolution Tap Room, located at 3340 N. Kedzie Ave. There will be wide distribution of Deth's Tar, Café Deth, and Straight Jacket cans to select retail accounts, along with limited distribution of Deth by Plums, Ten Year Beer, and Ryeway to Heaven.

WILL THE RELEASE EVENTS HAVE DRAFT-ONLY VARIANTS?

Definitely - after unveiling our Sanctuary Barrel Program last year, we're more excited than ever to share truly one-off beers with our biggest fans. We'll announce the variants during the week leading up to each release on our website and the Facebook event page.

CAN I BUY THE VARIANTS IN CROWLERS?

Not during the releases -- we want to give everyone a shot to experience Marty's one-of-a-kind creations. If we have enough left over after the release to pour crowlers, we'll update our social media with the variants and quantities we have available. Many of these wonderful beers live their entire lives on draft, and never see a can or crowler, so join us for a party and toast to the magic of American oak!
IS THE BEER READY TO DRINK RIGHT AWAY?

All of our Deep Wood Series beers are already aged between 6-36 months (depending on the beer) before we package them. They're absolutely ready to drink right away, and we don't recommend piling them on a lonely shelf for years at a time. Seriously - we made these beers for you to enjoy. Bottoms up!

HOW DO THEY AGE OVER TIME IN A CAN?

We flash pasteurize our Deep Wood Series beers. We've also tasted many of our beers aged over a year in cans and haven't picked up any big changes in flavor apart from the effects of normal aging. And again, we really think they're great now and hope you will too.

IS THERE A PURCHASE LIMIT AT THE RELEASE EVENTS?

We'll announce any purchase limits after the beer has been packaged. Keep an eye on our Facebook event pages and news posts–we'll let you know there first.

HOW LONG WILL EACH BEER BE AVAILABLE FOR?

We won't know that until we see the turnout at the release events, so we're not able to predict how long each beer will be available.
I CAN'T MAKE IT TO THE RELEASE DATE. CAN YOU SAVE/SHIP ME DEEP WOOD SERIES BEERS?

Unfortunately, once the beer is gone, it's gone. We don't hold any back for retail purchase. We are also unable to ship beer directly to consumers under federal law.

WHAT IS THE BEST-BY DATE FOR DEEP WOOD SERIES BEERS?

We do not provide a best-by date on our cans. While the beer may taste great in the future, our aluminum can supplier follows the industry standard and only warranties the integrity of our cans for 12 months.

CAN I USE CREDIT CARDS FOR MY PURCHASE?

Packaged Beer sales will accept both credit cards and cash, however draft sales inside the release event will be cash only to ensure the fastest possible service.

WILL THERE BE FOOD AVAILABLE AT THE RELEASE EVENTS?

The Revolution Taproom doesn't serve food, but we encourage customers to bring their own food, and we'll have food trucks scheduled to come and serve Rev fans.