Deth's Tar - Deep Wood Series Release
Join us as we kick off the 2019–2020 Deep Wood Series with the thundering return of Deth's Tar, alongside Café Deth and the canned debut of Deth by Plums.
Our original barrel-aged Imperial Oatmeal Stout, with a velvety smooth texture and rich chocolate profile. It's a big, bold stout specifically designed to go toe-to-toe with the barrels and come out stronger on the other side. This harbinger of doom picks up coconut, vanilla, and caramel from a year spent waiting
ALC. BY VOL. – 14.8%

REVIEWS
96 ON BEER ADVOCATE
4.38 ON UNTAPPD
AWARDS
Bronze (Strong Porter/Stout) – Festival of Barrel Aged Beers (2015)
Freshly roasted whole-bean coffee from our favorite local roasters gives a different perspective on Deth's Tar that is assertive without the specter of coffee overload. Our specialized extraction process yields the most vibrant flavors and aromatics possible. Pairs great with a warm, comfortable chair, and even better with food.
ALC. BY VOL. – 14.8%

REVIEWS
96 ON BEER ADVOCATE
4.43 ON UNTAPPD (2018)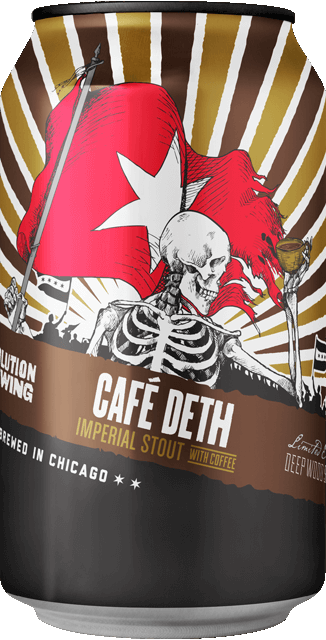 As written in mythology, immortals feasted upon plums to replenish their strength and vitality across the ages. We don't know about all that, but they sure taste nice in our Barrel-aged Imperial Oatmeal Stout, Deth's Tar. Tastefully sweet, subtly tart, and totally awesome, this riff on our flagship Deep Wood beer deftly combines flavors of dark stone fruit with those of a roasty, matured malt structure. Enjoy now or store cold.
ALC. BY VOL. – 11.7
DEEP WOOD SERIES CAN SALES WILL TAKE PLACE SEPARATE FROM THE TAPROOM, NEXT DOOR IN OUR SHIPPING AND RECEIVING DEPARTMENT (3350 N. KEDZIE AVE).
TO-GO CANS:
Deth's Tar four-pack: $25 + tax (No Limit)
Café Deth four-pack: $30 + tax (No Limit)
Deth by Plums four-pack: $40 + tax (Limit 4)
Maple Deth - 14.2% - Single Barrel
Brought to us by brewer David Blackford, a generous dose of Vermont maple syrup in this single Heaven Hill Rye barrel lends body and pronounced sweetness to this strong, otherwise dry Deth's Tar component. Anyone bring pancakes?
V.S.O. Lynott's 2018 Stout - 14.6%
Aged two years in Heaven Hill Bourbon barrels, this obnoxiously luscious Rocker of an Imperial Oatmeal/Milk Stout reemerges with notes of chocolate fudge, graham, roasted marshmallow, and vanilla.
Supermassive Café Deth - 14.1% - Single Barrel
Is it a beer with lots of coffee, or is it coffee made from beer? This special Deth's Tar sweet component boasts an elegantly elevated gravity and a hypersonic dose of Freshly Roasted ® Dark Matter Coffee. Experience the singularity that is our most aggressively dosed coffee beer we've ever produced.
Sanctuary #9 - Double Barrel X.O. (Extra Old) Lynott's 2017 Stout - 17.1% - Single Barrel
Aged 18 months in a WhistlePig 10 Year Rye Whiskey barrel, and 18 months in a Heaven Hill Bourbon barrel, this monstrously huge Imperial Oatmeal/Milk Stout is dripping with drying oak tannin and tongue tingling booze. Seriously, it's huge. Oh yeah, there's some Tahitian vanilla in there too. xo
Olde Gravedigger - 13.2%
After two years in Woodford Double Oak barrels, this delicately smokey kilted pugilist is out on good behaviour. Off-dry and laden with American oak character, these two barrels are the last we'll see of our favourite BA Scotch Ale for a right long time.
Deth's Tar Limited 2019 - 14.5%
This multi-vintage blend of Deth's Tar sweet component is comprised of the four most expressive barrels we came across when tasting through the stacks. Dark chocolate, toasted coconut, vanilla, and toffee leap from the glass as though we put that stuff in there. We didn't.
ALL CREDIT CARD TERMINALS WILL BE USED FOR TO-GO SALES, TO SPEED ALONG THE LINES. BOTH CASH AND CREDIT CARDS ARE ACCEPTED FOR THE PURCHASE OF 4-PACKS.
DRAFT POURS IN THE TAPROOM WILL BE CASH ONLY (ATMs WILL BE ONSITE) TO ENSURE THE FASTEST POSSIBLE SERVICE. DRAFT PRICING WILL BE AS FOLLOWS:
5 oz. barrel-aged beers, including variants: $7
16 oz. Pints of non-barrel-aged beers: $7
WHERE WILL THESE BEERS BE AVAILABLE?
Each of the Deep Wood Series beers will be released in cans at the Revolution Tap Room, located at 3340 N. Kedzie Ave. There will be wide distribution of Deth's Tar, Café Deth, and Straight Jacket cans to select retail accounts, along with limited distribution of Deth by Plums, Ten Year Beer, and Ryeway to Heaven.
WILL THE RELEASE EVENTS HAVE DRAFT-ONLY VARIANTS?
Definitely - after unveiling our Sanctuary Barrel Program last year, we're more excited than ever to share truly one-off beers with our biggest fans. We'll announce the variants during the week leading up to each release on our website and the Facebook event page.
IS THE BEER READY TO DRINK RIGHT AWAY?
All of our Deep Wood Series beers are already aged between 6-36 months (depending on the beer) before we package them. They're absolutely ready to drink right away, and we don't recommend piling them on a lonely shelf for years at a time. Seriously - we made these beers for you to enjoy. Bottoms up!
HOW DO THEY AGE OVER TIME IN A CAN?
We flash pasteurize our Deep Wood Series beers. We've also tasted many of our beers aged over a year in cans and haven't picked up any big changes in flavor apart from the effects of normal aging. And again, we really think they're great now and hope you will too.
IS THERE A PURCHASE LIMIT AT THE RELEASE EVENTS?
We'll announce any purchase limits after the beer has been packaged. Keep an eye on our Facebook event pages and news posts–we'll let you know there first.
HOW LONG WILL EACH BEER BE AVAILABLE FOR?
We won't know that until we see the turnout at the release events, so we're not able to predict how long each beer will be available.
WHAT IS THE BEST-BY DATE FOR DEEP WOOD SERIES BEERS?

We do not provide a best-by date on our cans. While the beer may taste great in the future, our aluminum can supplier follows the industry standard and only warranties the integrity of our cans for 12 months.
I CAN'T MAKE IT TO THE RELEASE DATE. CAN YOU SAVE/SHIP ME DEEP WOOD SERIES BEERS?
Unfortunately, once the beer is gone, it's gone. We don't hold any back for retail purchase. We are also unable to ship beer directly to consumers under federal law.
CAN I USE CREDIT CARDS FOR MY PURCHASE?
Packaged Beer sales will accept both credit cards and cash, however draft sales inside the release event will be cash only to ensure the fastest possible service.
WILL THERE BE FOOD AVAILABLE AT THE RELEASE EVENTS?
The Revolution Taproom doesn't serve food, but we encourage customers to bring their own food, and we'll have food trucks scheduled to come and serve Rev fans.