Flying onto the scene: League of Heroes Issue 4
05.10.18 | Beer
League of Heroes IPA variety packs combine the leadership of Anti-Hero, Chicago's #1 IPA, with three of his best recruits. Each 12-pack includes at least one innovative hero making their first appearance, along with the return of previous favorites from our rotating Hero Series 6-packs. Each issue of the League of Heroes contains 4 specialty IPAs, 3 cans of each, allowing the opportunity to experience and compare unique hop flavors andprofiles. Approximately 3 times per year, a new issue will be released with a fresh team of heroes to enjoy.

Issue 4 gives flight to Centennial-Hero, a new IPA inspired by the Centennial of our beloved Logan Square Monument, built in 1918 to celebrate the 100th anniversary of Illinois' statehood.  The historical landmark is proudly topped by an eagle in reference to the Flag of Illinois and serves as the centerpiece of our Logan Square neighborhood. Centennial hops create fresh citrus and earthy characteristics, which impart the IPA with a lemony aroma followed by a deep bitterness, making it a perfect Hero to pair with hot, summer days.
Anti-Hero, Citra-Hero, and Mosaic-Hero are joining Centennial-Hero in battle, making Issue 4 the most star-studded pack to date. Each member of the League of Heroes is canned within days of each other, with the born-on-date of the oldest can stamped on the box. The team at Revolution Brewing works diligently to package the Leagues of Heroes multiple times per month, ensuring maximum levels of freshness at our retail partners.
The latest chapter of the IPA Variety Pack series will be landing on retailer shelves beginning the week of May 14th and are currently available in the Revolution Tap Room on Kedzie Ave.  Issue 4 will continue to be packaged regularly throughout the entire Summer.
Find the League of Heroes retail partner nearest to you here: https://revbrew.com/beer/find
About the Heroes:
Centennial-Hero
India Pale Ale
This new IPA gives flight to Centennial, the Lord of the "C" hops, allowing the fresh citrus and earthy characteristics to soar. Learn More
ABV: 7 IBU: 70
Citra-Hero®
India Pale Ale
An elegant IPA designed to showcase the Citra® hop. Multiple hop additions in both the brewhouse and the dry-hop create an explosion of fresh orange rind, melon, and passionfruit. Learn More
ABV: 7.5 IBU: 65
Mosaic-Hero
India Pale Ale
An exotic IPA brewed with 100% pale malt to yield a deep golden color and smooth mouthfeel. The dry-hop primarily features Mosaic hops, infusing tropical fruit flavors like mango and pineapple, along with crystal hops to add a touch of fresh pine. Learn More
ABV: 7.5 IBU: 65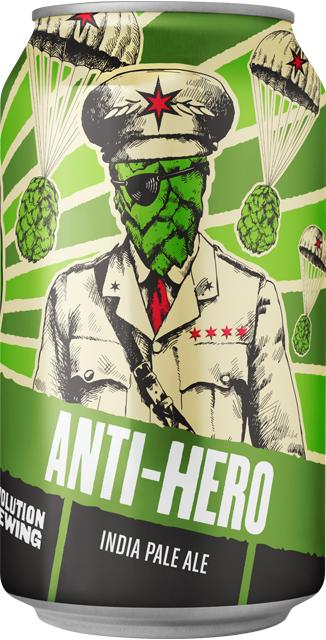 Anti-Hero®
India Pale Ale
Our flagship IPA is supremely aromatic, crisp, and drinkable. This iconic ale features a blend of Citra, Crystal, Centennial, and Chinook to create a crisp clean bitterness and imparts massive floral and citrus aromas.  Learn More
ABV: 6.7 IBU: 65