Straight Jacket & Boss Ryeway Release
Close out an unforgettable barrel-aged beer season with our most awarded Barleywine and an incredible new take on an old favorite. Straight Jacket, fresh off a year of medals, will be available alongside Boss Ryeway — a new version of Ryeway to Heaven finished in WhistlePig The Boss Hog barrels. Join us at the Taproom and let's toast the end of another incredible Deep Wood Series.
Our Barleywine Ale features American and Belgian malts which provide the base of this extraordinary ale. After 12 months in bourbon barrels the award-winning Straight Jacket emerges with notes of stone fruit, toasted coconut, molasses, and vanilla coming in waves as you swirl the glass. Enjoy now or store cold.
ALC. BY VOL. – 13.1%
BITTERNESS - 25 IBUS
REVIEWS
4.33 ON BEER ADVOCATE
4.4 ON UNTAPPD
Awards

Gold (Barleywine/Wheatwine) – Festival of Barrel Aged Beers (2014)
Category 28: Wood- and Barrel-Aged Beer – GABF (2018)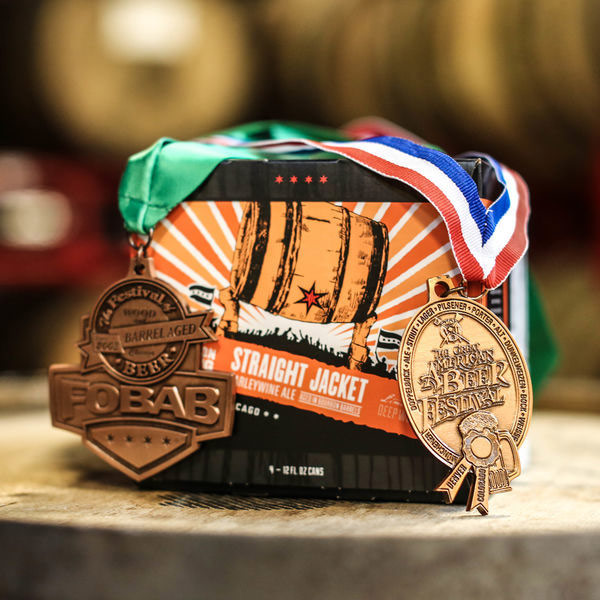 THE HISTORY OF STRAIGHT JACKET
The style, once confined to the margins of craft beer and in danger of earning the dreaded "historical" label, is booming with incredible offerings from talented brewers worldwide. Here at Revolution, the current Deep Wood Series is on track to release two Barleywines and two Ryewines within four months of each other – something we'd never have predicted three years ago.
LEARN WHY IT'S NEVER BEEN A BETTER TIME TO BE A BARLEYWINE DRINKER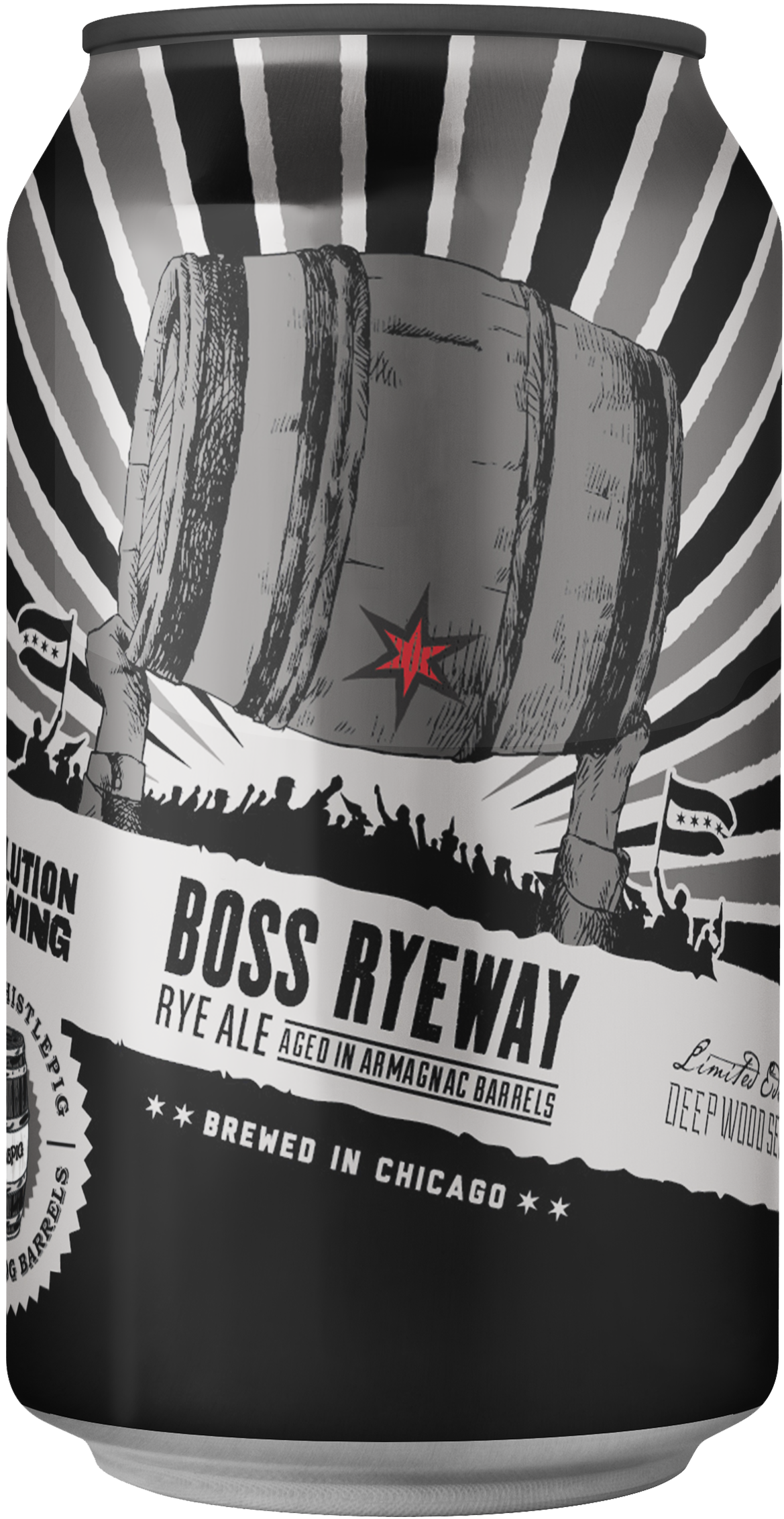 An exceptionally complex sipper that combines bold American rye with toasted, nutty French oak. Boss Ryeway is a new take on Ryeway to Heaven matured in WhistlePig The Boss Hog Armagnac barrels. It's expertly blended with a small selection of bourbon and rye barrel-aged Ryeway for balance. Dry but incredibly full-bodied, with oak tannins and spice notes, it's a one-of-a-kind experience. Enjoy life now, or store cold.

ALC. BY VOL. – 14.6%
BITTERNESS - 25 IBUS
Our new take on RYEWAY TO HEAVEN
ILLINOIS
Durty Nellie's
Palatine, IL
5-7 PM

The Olympic Tavern
Rockford, IL
5:30 - 7:30 PM
Thyme
Peoria, IL
4-7 PM
Sheffield's
Chicago, IL
5-7 PM
Bitter Pops
Chicago, IL
6-9 PM
Monk's Pub
Chicago, IL
4-7 PM
Poor Phils
Oak Park, IL
7-9 PM
**Cancelled**
Garfield's Crystal Lake
Crystal Lake, IL
TBD
SPECIAL additional EVENT: FEB 7th [rescheduled due to severe cold]

Beer on the Wall, Whole Foods Market, Holt's Park Ridge and Harp & Fiddle are teaming up to bring you the Park Ridge 2019 DETH CRAWL
Park Ridge, IL
6-10 PM
DEEP WOOD SERIES CAN SALES WILL TAKE PLACE SEPARATE FROM THE TAPROOM, NEXT DOOR IN OUR SHIPPING AND RECEIVING DEPARTMENT (3350 N. KEDZIE AVE).
TO-GO CANS:
Straight Jacket four-pack: $25 + tax (No Limit)
Boss Ryeway four-pack: $35 + tax (Limit 2)

WE'RE EXCITED TO SHARE THE LIST OF DRAFT-ONLY SELECTIONS FOR the STRAIGHT JACKET & BOSS RYEWAY RELEASE
---
Cursed Man (pronounced Cur-sed) - Barrel No. 567 - 14.7% ABV
Born of a single Kentucky Peerless Rye Whiskey "money" barrel, this component of Boss Ryeway weaves American oak and premium spirit into this ascendant elixir.
Penitent Man - Barrel No. 1654 - 14.4 % ABV
This component of Boss Ryeway descended from the ethereal plane via a single "money" WhistlePig The Boss Hog Black Prince French oak Armagnac finishing barrel, and positively drips with nuance. If you thought that was a mouthful, wait 'til you taste it.
Boss Jacket 2019 - 14.3%
Well Straight Jacket just couldn't let Ryeway have all the fun, could it? This unique blended English Barleywine is comprised of single Straight Jacket WhistlePig The Boss Hog Black Prince French oak Armagnac and Heaven Hill Bourbon barrels. A slightly mellower malt structure allows for the wood and spirit components shine.
Double Barrel Boss Jacket 2019 - Sanctuary No. 19 - 17.2% ABV
This pugilistic single barrel of Straight Jacket dry component aged in WhistlePig The Boss Hog Black Prince French oak Armagnac and Heaven Hill Bourbon barrels is awash with French and American oak and a blend of three spirits
Boss Ryeway Select: Cuvée de Grâce - 14.3% ABV
This single WhistlePig The Boss Hog Black Prince French oak Armagnac barrel was filled with a blend of Straight Jacket dry component and Ryeway to Heaven, aged one year, and then blended with Very Special Old Ryeway which spent two years in Woodford Double Oak barrels.
Double Barrel V.S.O.J. Cherry Rye - 14.5% ABV
Tart cherry rounds out the most ridiculous beer we've produced to date. Slightly sweet, slightly tart, and subtly fruity, this sipper is satisfyingly staggering.
ALL CREDIT CARD TERMINALS WILL BE USED FOR TO-GO SALES, TO SPEED ALONG THE LINES. BOTH CASH AND CREDIT CARDS WILL BE ACCEPTED WHEN PURCHASING Straight jacket and boss ryeway 4-PACKS.
DRAFT POURS IN THE TAPROOM WILL BE CASH ONLY (ATMS WILL BE ON-SITE) TO ENSURE THE FASTEST POSSIBLE SERVICE. DRAFT PRICING WILL BE AS FOLLOWS:
5 oz. barrel-aged beers, including variants: $6.00
16 oz. Pints of non-barrel-aged beers: $6.00
1 ) Will 4-packs make it until the days following the release?
We won't know that until we see the turnout at the release events, so we're not able to predict how long each beer will be available. We will announce at the end of the release event if any 4-packs remain.
2 ) What are the limits on four-packs?
Straight Jacket four-pack: $25 + tax (No Limit)
Boss Ryeway four-pack: $35 + tax (Limit 2)
3 ) Will the lines be under cover again?
Yes! The line to buy Deep Wood Series cans will once again be underneath our driveway, located at the North end of the building, keeping you out of the elements and a little warmer.

4 ) Where will four-packs be available?
During the release, all Deep Wood Series cans will be sold out of our Shipping & Receiving area, next door to the Taproom at 3350 N. Kedzie Ave. Straight Jacket four-packs will see wide distribution following the release. Boss Ryeway will be Taproom only. Please use our Beer Finder to locate a location near you.

5 ) Will there be food available at the release events?
The Revolution Taproom doesn't serve food, but we encourage customers to bring their own food, and we'll have food trucks scheduled to come and serve Rev fans.
6 ) Why doesn't the release begin until 4:00pm?
It takes an army to set up and execute our barrel-aged releases, ensuring that service and lines move quickly. The 4:00pm start time is out of necessity to ensure we have a large enough staff to make your experience enjoyable. We apologize for any inconvenience this causes.
7 ) Is the beer ready to drink now?
Deep Wood Series beers are already aged between 6-36 months (depending on the beer) before we package them. They're absolutely ready to drink right away, and we don't recommend piling them on a lonely shelf for years at a time. Seriously - we made these beers for you to enjoy. Bottoms up!
8 ) What is the best by date for Deep Wood Series beers?
We do not provide a best by date on our cans. While the beer may taste great in the future, our aluminum can supplier follows the industry standard and only warranties the integrity of our cans for 12 months.
9 ) Anything else we should know?
To properly serve all of our release guests, we will not be accepting keg returns or pick-up the day of the release. Our taproom will also observing special hours to properly prepare for speedy service. For guests anxious to try the releases, we encourage you to visit a preview party the night before or our brewpub (the day of the release).